THE END
It's the final weekend of the Winnipeg Fringe Festival; and to start it off here is the final Jenny Revue of 2014.
Of course, it's possible that it's the final Jenny Revue ever.
We started the Jenny 23 years ago because, at the time, the local companies were getting short shrift from the mainstream media.
But now that the Festival is sponsored by CBC and the Free Press and they each have a team of paid reviewers to cover everything on the lot, (though occasionally the Freep covers the shows as they were on other cities' fringe lots) it seems Fringers, or at least those who use reviews as a guideline when making their entertainment choices, are content with that.
I thought that perhaps we were losing contributors to web reviews on the sponsors' sites, but while the Freep allows readers to choose how many stars to award a show, and while it has a comment section after news items, such as the coverage of Lies of a Promiscuous Woman, I could fnd nowhere to click to access user reviews or comments. Ditto for the CBC.
It could be that I somehow missed an invitation to review on either site. I know in year's past, Fringers were accosted in the beer tent by young ladies bearing laptops, who would cajole them into writing reviews.
No blame—The Jenny used to do the same thing. Well we wandered around handing out scrap paper and pens to late night King's Head patrons who were just trying to get their drink on, but the concept is the same.
This is the day when I tell Jenny readers how many shows we covered (98), how many reviews (119) and SSPs (45) and letters (3) we published and how many contributers we had, outside of Jenny staff (12).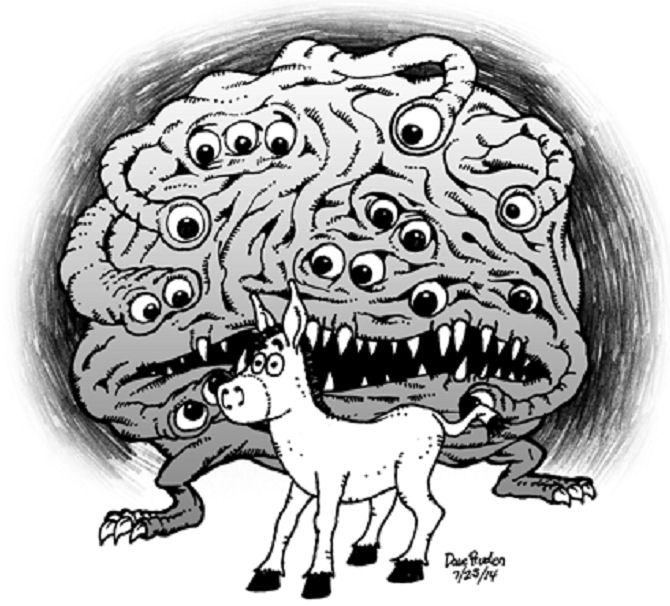 It's that last number that tells me two things: one, Ray Yuen, Arden Pruden, and Kevin Longfeld did incredible work this year. Special thanks to Ray, who took over the entire scheduling of the Jenny Revue coverage, and did an excellent job.
And two, the emptying of the outlying Jenny boxes suggests either there's still an interest in reading The Jenny, or someone has a papier mache art project and needs supplies.
I should, at this point, give a plug for our new print shop All Nations Print Ltd. on St. James Street, who put up with our deranged schedule, and produced one of the nicest looking papers we've ever put out. With staples, yet!
Thank you Brenda Parsons and All Nations Print for an impeccable job. If we're still here next year and you'll have us, we're coming back to you.
Despite the lack of a Fringe photo call this year, David Nishikawa aimed his camera at whatever there was to see and captured some damn nice shots. They joined the cartoons of Jenny's dilemmas by the ever inventive Dave Pruden.
Of course Dave "KC" Cramer put all these issues together with his usual artistry, and they go into your hands through the dedication of Michelle Cook. For our new enhanced online viewing, many thanks to Murray Hunter, our hard working webmaster, who also reinvented the Fringe schedule this year just for kicks.
The Jenny Awards—If you see a passel of folks yelling, writing and waving papers and programs around a table at the King's Head on Saturday night, that's us. Feel free to give us your ideas for nominations.
The Awards Show starts around 11:30 on Sunday night, upstairs at the King's Head, and it's free. Come shout for your faves.
And thanks to all our supporters, financial and otherwise, for making us happen all these years. And especially to the person or persons unknown who early in this year's Fringe gave us a substantial donation. We love you.
Coral McKendrick
---